House Cleaning Done Right

Selecting the right house cleaning company has never been easier!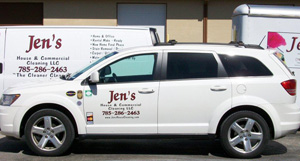 Jen's House & Commercial Cleaning serves Topeka and Lawrence and we are creating quite a buzz with home owners who are seeking a house cleaning service that consistently delivers a spotless and clean home every time. Jen's House & Commercial Cleaning of Topeka and Lawrence is a premier house cleaning service, where we provide you with quality cleaning service by people who have been trained, evaluated and are supervised daily to ensure you are getting a highly trained and experienced house cleaning professional . Jen's House & Commercial Cleaning offers recurring weekly, bi-weekly and monthly house cleaning services to maintain your home. We can also do a single-day clean for those special occasions.
We provide weekly, bi-weekly, monthly and single-day services!
We follow an 65-point checklist (double the number of most all other house cleaning companies) which focuses on kitchens, family and bedrooms, bathrooms, floors and dusting your whole house, or you can request a Special Clean which we will gladly do because you don't have the time or don't want to. We'll design your house cleaning solution around your needs, where you don't have to worry about anything...we bring all the supplies and equipment and a premier quality control method that ensures a happy customer every time. We guarantee it!
Rental Make-Ready
Let us clean your rental properties

We are really good at this and will get your rental properties thoroughly cleaned and ready for move-in. All rental cleans receive Jen's premier 65-Point Cleaning Check List. If nothing else, give us a try and see for yourself. Our customers are our best advertisement!
Carpet Care Service
We clean tough carpet stains!

Do you have a carpet stain you can't remove or maybe have had another carpet cleaner try to remove? With Jen cleaning your carpet, we use industry-grade equipment and solvents that can make your carpet look like it was new again. Before you give up, give us a try. We use higher-end equipment and solvents that can make your carpet look like it was new again. If you need a couple rooms cleaned or a tough carpet stain removed, give us a call first. Check-out our Carpet Cleaning Service or you can call us Topeka 785-286-2463 Lawrence 785-832-2463 or Toll Free 877-816-2463 for more details and an estimate. If you are looking for the lowest price, that is not us but we do guarantee 100% satisfaction and a higher quality carpet cleaning service every time!
Maid Service
We customize to fit your cleaning demands!

Jen's House & Commercial Cleaning works around your house cleaning needs and working schedule. We think we do it better than almost any other house cleaning company and have installed proprietary quality control and training measures to ensure a consistently clean home every time. Isn't that what you want and are paying for! Contact us now for a cleaning estimate.
Flexible Options
We provide weekly, bi-weekly, monthly and single-day services!

Housekeeping cleaning services from Jen's House & Commercial Cleaning are easy to setup and we truly work around your schedule and offer various cleaning options. Let us design a cleaning package around your cleaning preferences, desired frequency and budget. It's EASY and GUARANTEED.
Real Estate Agents
We can help you sell a home faster!

Let Jen's House & Commercial Cleaning provide you and your clients with a clean home that makes prospective home buyers take notice. Clutter, dirt and dust can be a huge deterrent to a potential buyer, causing them to overlook and undervalue the many wonderful features of a home you're trying to sell.
In fact, potential buyers react WORSE to dirt than clutter.
This is unnecessary and Jen's House & Commercial Cleaning has a solution that any real estate agent or home seller can be very happy in using before putting a home on the market. Our homes just look and are cleaner than most other house cleaning companies, due to our process and quality control measures. We guarantee 100% satisfaction! Jen's House & Commercial Cleaning specializes in real estate detailing, making homes ready to show, sell or move-in with one-of-a-kind cleaning solutions.
Carpet, Upholstery & Rugs
Natural Stone & Tile Care
Pet Odor & Stain Removal
Professional House Cleaning
Move-in & Move-out Deep Cleans
If you have a Special Clean job that needs us to roll-up our sleeves a little higher. We can do it. It's been said before but there is no job that is too big or difficult that we can't do. Give us a call and see for yourself our impressive results. Your satisfaction is guaranteed!