Rental Make-Ready
Let Us Clean After a Move Out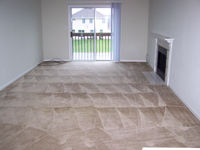 Rental Property Cleaning
Cleaning up after residents move out can be a real hassle for landlords & apartment managers. Jen's is equipped with everything we need to clean your rental property and make it attractive to quality prospective tenants.
We will:

Clean refrigerator, microwave, dishwasher, and Oven inside and out
Clean and sanitize kitchen counters and back splashes.
Scrub out sink and shine faucets.
Clean all doors, frames, jambs, knobs, shelving, baseboards, and crown molding.
Clean interior and exterior of all cabinets & drawers.
Dust windowsills, blinds & ceiling fans.
Wash interior windows and patio doors.
Sweep/Vacuum/Mop all floors.
Clean and sanitize all bathroom fixtures, counters and tile.
Sweep patio, balcony & entrance way to unit.
And so much more...
We work with the top properties, management companies and managers throughout the area. We know that a clean unit not only helps rent your property for top dollar but also helps attract high quality tenants increasing your bottom line.
Book your service with us and you can rest knowing that every square inch of your rental property will be professionally cleaned and polished.
Jen's can handle all the cleaning services necessary as each tenant vacates your property, so you don't have the hassles. With our fast and thorough services, we can have your rentals ready to rent in no time. Give Us a Try!
Our rates are very competitive, and we take great pride in the quality of our work.